A family business, Michael Brown our managing director has been involved in the dry cleaning industry for 45 years. Our dry cleaning business The Master Cleaners (est. 1972) has been involved in specialist dry cleaning to the theatrical, film and TV world. Our clients have included top West End theatres for example shows like Miss Saigon, Warner Brothers and the BBC.
We began selling Colibri through our business in 2002 and were quite overwhelmed by the sales. The product was recommended to us by one of our customers and we are glad we listened to her. Of course counter sales of products are a small part of our business, however the sales were exceptional, there was clearly something special about this product.
In conjunction with the UK importer Himalaya UK LTD, we began to act as a distributor of the product in the UK. We sell directly to over 10% of the UK dry cleaning market and through other distributors cover most of the UK.
In 2004, following a trip to India by Daniel Brown we were appointed worldwide agents for Colibri to the dry cleaning industry.
About Maroma
Founded in 1976, Maroma is an accredited fair trade company. Guided by their principles to make 'beautiful products of quality' they have rapidly expanded into a successful international company, which exports products to 25 countries.
Paul Pinthon, CEO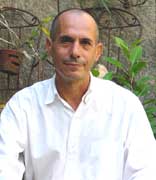 Paul Pinthon, the founding CEO of Maroma, is French, and was trained in the field of pharmacy. With a few friends he seeded a micro-enterprise in 1976, and so the future Maroma began - with a fragrance called 'Encens d'Auroville'. As Paul describes it, "We were pioneers in the world of Auroville business, without any experience, but we had no fear of the present or the future, or our lack of money. We started the unit because we wanted to create a beautiful product."
Laura Reddy, CEO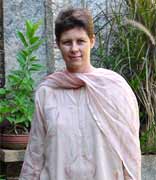 In 1984, Laura Reddy, an American with training in Aromatherapy in France, joined Maroma. Working together with Paul, they re-cast Maroma into a successful manufacturer and exporter of a range of quality aromatic products made from natural botanical substances. "It was slow and hard work," adds Laura, "but we both felt a very strong aspiration to make it come alive.
Nothing is left to chance.
Maroma quality is the outcome of the efforts of a responsible manufacturer who has created a range of aromatic products: incense, pot pourri, perfumed sachets and blends of essential oils.
Every stage in production is inspired by the awareness that the potential for change in the state of mankind lies within ourselves, in what we do, in the conscious attention that we pay to our everyday work. What matters, above all, is the love that each of us infuses in our work.
The flame in our heart, sparked by a need to create beautiful products of quality, that are manufactured with care, has grown into an interesting and challenging commercial venture.
Business is not done "as usual", but with an increasing awareness and sensitivity towards the local and global environment and towards the needs of Auroville.